General Manager
Salsa Shop
Amsterdam +
What is required?
Relevant experience in Hospitality and Management
Customer oriented
Eye for detail
Ability to lead a team
Willingness to regularly work on weekends
What will you get?
€2.350,- gross p/m
40 hour workweek
25 vacationdays
Internal training
Free meal per shift
What will you do?
20% Placing orders
20% Track finances shop
40% Cooking, cleaning and helping customers
10% Personnel Planning
10% Solving problems with customers and suppliers
This vacancy has been created based on interviews with employees to help you get a realistic preview of the job.
Vacancy
Currently we are fully staffed, you're more than welcome to apply for this job but when a spot opens we will reply to your application. Thanks!
As General Manager you are responsible for the running of a Salsa Shop restaurant. It is a multifunctional role. You make sure orders are placed, you maintain contact with suppliers and you take care of the finances. You also supervise the cleaning and help with this if necessary. In addition, you draw up the schedules and supervise the team during work. If required, you give a hand in the kitchen or you help serving the customers. Furthermore, you make sure any problems with customers or suppliers are dealt with as soon as possible. You also have meetings with other General Managers and the head office to discuss the current situation and future strategy. You help recruit and train new Team Members and you help them with their development within Salsa Shop.
You start with a General Manager training course that takes approximately four months. After that, you are placed in charge of your own shop. You can decide yourself whether you work the day, afternoon or evening shift and you choose which five days you work. You do make sure you work in different sorts of shifts.
You have to like working with food and you shouldn't mind having to do the dirty work sometimes.
Working week
Regional Manager
Alexander Jerejian
I have an enjoyable day if it is busy in the shop, the customers are happy and my team is enjoying their work.
A day is less enjoyable if someone is ill and I have to take over their shift.
09:00

10:00

11:00

12:00

13:00

14:00

15:00

16:00

17:00
When you arrive at the shop, you hear from the kitchen that the lettuce for that day wasn't delivered this morning. What do you do?
First, you check if the lettuce was actually ordered. If that is the case, you check if it's on the packing list and if got through to the supplier correctly. Before you get in touch with the supplier, you check the current supply. If there is insufficient lettuce in stock, you call the supplier to inform them that the lettuce has not been delivered. You indicate that an express delivery will be required, so that the lettuce is there before the shop opens.

If there is sufficient lettuce to get through the day, you call the supplier to ask why the lettuce wasn't delivered. You also indicate that it is no longer necessary to deliver the lettuce and ask for a refund. You will receive a number for this, which you have to put in the worksheet. You email this worksheet to the finance department. They will ensure that the money is refunded. You then place an order for the lettuce for the next day to make sure you don't run out the next day.
Growth
As General Manager you are trained to run the shop as your own business. You have the freedom to make independent decisions. You are supported and guided in this by a regional manager (always a former General Manager) who acts as a sparring partner and coach.
Working at Salsa Shop
Salsa Shop was founded in 2014 and now has 10 locations. This makes it the largest fresh Mexican food chain on the European mainland. It employs 130 people who are spread over various locations in the Netherlands.
HQ in Amsterdam

Active in the Netherlands

50% / 50%

Average age 23

130 employees in NL
Colleagues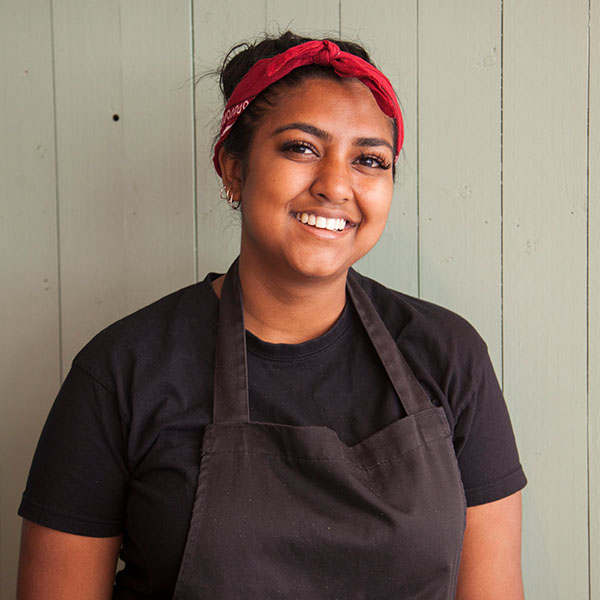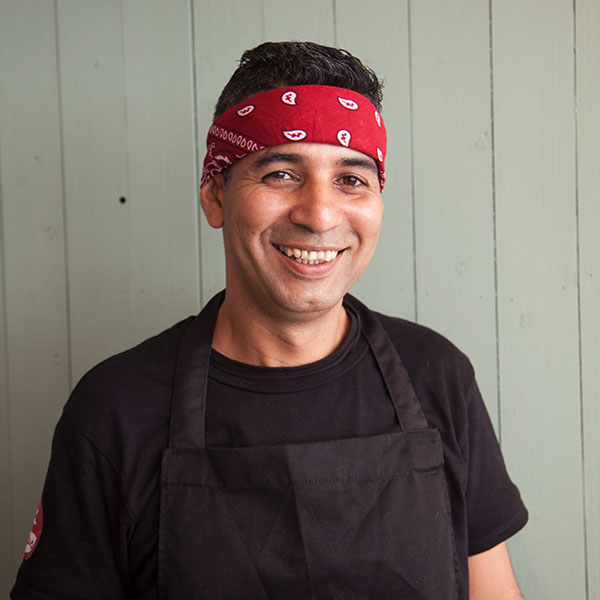 Raziah Fatehmahomed (19) - Team Member
Why did you decide to work for this company?
I wanted to work at a nice restaurant with friendly colleagues. The culture and ambiance at Salsa Shop is great and that's why I love working here.
What was your previous job?
Cashier at Jumbo.
What do you do in your spare time?
Watching movies on Netflix.
Oscar Soto (41) - Cook
Why did you decide to work for this company?
I love to cook and at Salsa Shop they needed a cook so that's why I decided to apply.
What was your previous job?
I was a cook in a restaurant in Spain.
What do you do in your spare time?
I love to cook and watching movies.