Jobs

Associate Risk Assurance
Associate Risk Assurance
PwC
Amsterdam
What is required?
Academic level
Experience and / or affinity with IT
Assertive and innovative character
Strong in a team
Interested in a postgraduate course or certification
What will you get?
€ 2,650 gross p/m
40 - 45 workweek
30 vacation days
Professional training courses, both intern and abroad
What will you do?
20% Meetings client
16% Internal consultation
40% Execution of inspection or advisory work
24% Trainingen
This vacancy has been created based on interviews with employees to help you get a realistic preview of the job.
Vacancy
As an Associate Risk Assurance at PwC you are (co)-responsible for the execution and support of IT audits and consultancy work. You will support the PwC accountants' team during audits, by checking whether the IT processes and applications of the client are trustworthy and if the PwC accountants can actually rely on them. For the consultancy activities, you will analyse your client's IT processes and applications, assess the weak spots and determine what can be optimized. Accordingly, you will provide the client with advice based on this.
You will work closely together with a team of approximately 5 people, depending on the assignment. You will always work with a Senior Associate who will assist you.
Calendar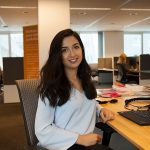 Associate Risk Assurance
Büşra Korkmaz
A day is enjoyable when my work is varied. Then I have various meetings and in between there is time to focus on my own work.
A day is less enjoyable when I have no meetings scheduled and work on my own the whole day.
08:00

09:00

10:00

11:00

12:00

13:00

14:00

15:00

16:00

17:00

18:00
Kick-off meeting

Introduction contact person

Lunch

Call colleague

Prepare interviews

Audit work

Preparing agenda

Internal consultation

Carry out control or advisory work

Study IT processes

Call colleague

Interview client

Debriefing interview

Lunch

Carry out control or advisory work

Carry out control or advisory work

Interview client

Intern consultation

Call met colleague

Work out interview

Lunch

Carry out control or advisory work

Prepare interview
You have just started with a consultancy project at a new client and will have your first meeting with the person responsible for access security. How do you proceed?
It could be, for example, that the client would like you to improve and map their internal IT environment to comply with the new privacy legislation (GDPR). After the appointment, you will develop your understanding of this certain IT aspect and make an initial assessment. You propose this assessment to the team internally and when it has been approved, you then share a recommendation with the client. In this consultancy assignment, you play an advisory role and cooperate with the client to create a solution. If the client also approves this, you can start to fully analyse and improve the access security.
Growth
You start as Associate Risk Assurance and after approximately two years you will grow into a Senior Associate role. As Senior Associate you will be given more responsibilities regarding clients' assignments, but also in assisting Associates. From that role, it is possible to progress to the level of Manager. If you start working for PwC, you will be assigned a personal coach and together with your year group, you participate in internal training courses such as soft skills workshops and join knowledge sharing meetings. You will be part of professional training courses, both in the Netherlands and abroad.
Working at PwC
PwC was founded in 1849. Following a number of mergers, it has grown into a global business service provider with activities in the field of Digital Technology, Assurance, Tax and Advisory.  With their network of companies in 158 countries and more than 250.000 staff, they serve a wide range of industries and clients. At PwC Nederland over 5,000 people work together.
HQ in Amsterdam

Active in 158 countries

42 % / 58 %

Average age 31

Over 5.000 employees in NL

250.000 employees worldwide
Colleagues
Stefanie de Zwart (27) - Senior Associate Risk Assurance
Why did you decide to work for this company?
A study friend had done an internship at PwC and was so enthusiastic that he continued to work there. During a conversation with a senior manager, I found out that PwC is not just about working, but also looking at what you as a person consider important and can add. I quickly became enthusiastic and I now work here with pleasure.
What did you study?
Master Management of Innovation at the Erasmus University Rotterdam (RSM).
What do you do in your spare time?
I like to dance (salsa0, food crawls with friends and travel.
Ceylan Köycü (27) - Senior Associate Risk Assurance
Why did you decide to work for this company?
After completing a thesis at PwC I wanted to start my career here. It seemed like a good platform for me to develop within a specific field and dynamic in terms of working environment.
What was your previous job?
Master Business Administration.
What do you do in your spare time?
In my spare time I like to work-out.
Mario Mazul (27) - Associate Risk Assurance
Why did you decide to work for this company?
I started working at PwC because of the diversity. You work with different teams and clients and you also get the opportunity to develop well. This can be done through internal projects, external study or internal courses.
What was your previous job?
Due Diligence Specialist - InsingerGilissen.
What do you do in your spare time?
Gamen, working out and be with friends.
Mahdi Hazara (27) - Associate Risk Assurance
Why did you decide to work for this company?
After I had been in contact with PwC Risk Assurance Services, I was immediately enthusiastic. Besides the very nice colleagues, the variety of assignments at different companies in different industries made RAS so interesting for me.
What was your previous job?
Financial Auditor.
What do you do in your spare time?
I like to travel, read, cook, cycling and running