Jobs

Senior Data Scientist
Senior Data Scientist
Matrixian Group
Amsterdam
What is required?
Academic level of maths and statistics
3 years of experience in programming languages R and / or Matlab, Python, SQL
Work experience in building prediction models
Able to work independently
Want to share knowledge
Living in or near Amsterdam
What will you get?
€2,500 - €3,500 gross p/m
40 hour workweek
24 vacation days
Rarely work on the weekend
Possibility to follow in-depth training and courses
What will you do?
40% Building models
30% Guiding data team
20% Research
10% Internal consultation
This vacancy has been created based on interviews with employees to help you get a realistic preview of the job.
Vacancy
As a Senior Data Scientist, you are responsible for building 'predictive' and 'machine learning' models with the help of data gathered by the Matrixian Group. You make sure that the collected data is cleaned up so that it can be used for the models you build. When you have built a model, you supervise the data team using it. Together with the data team, you come up with solutions for clients who want to get more out of their data and build your models in order to help them do this.
Calendar
Data Scientist
Keshava Ragavendra
A day is enjoyable when I can continue with my own work and solve problems for the team and myself so that we obtain a good result. Then you get a lot done and that gives me a good feeling.
A day is less enjoyable when I have a lot of meetings and questions in between. Then I can concentrate less on my own work
09:00

10:00

11:00

12:00

13:00

14:00

15:00

16:00

17:00

18:00
A client asks you to predict the company's turnover? What do you do?
First, you ask the client for old data. You have it checked by someone from your data team, to see if it is unique and clean data. You get this data back and on the basis of this see if you can build a model that can predict the turnover. It could be that you don't have enough data, then you discuss this with a junior in the data team and they ensure you do have sufficient data. When you have completed the model, you can show the client what your findings and the predictions for the company's turnover are.
Growth
As a Data Scientist at Matrixian Group, you can go on to become a Team leader. You can follow relevant training courses fort his. If you like, you can also organize (regular) training courses within our Data Academy. At the same time, you also work on your personal growth by following training courses.
Working at Matrixian Group
Matrixian Group was founded in 2016 and interprets (open) data for people, companies and public authorities. Matrixian Group focuses their information services on the specific request of their clients. This way, they can directly improve the quality of their services and help their client optimally. Matrixian Group provides services to the top 1000 companies in the Benelux and to public authorities.
HQ in Amsterdam

Active in three countries

25% / 75%

Average age 27

18 eployees in the Netherlands

21 employees worldwide
Colleagues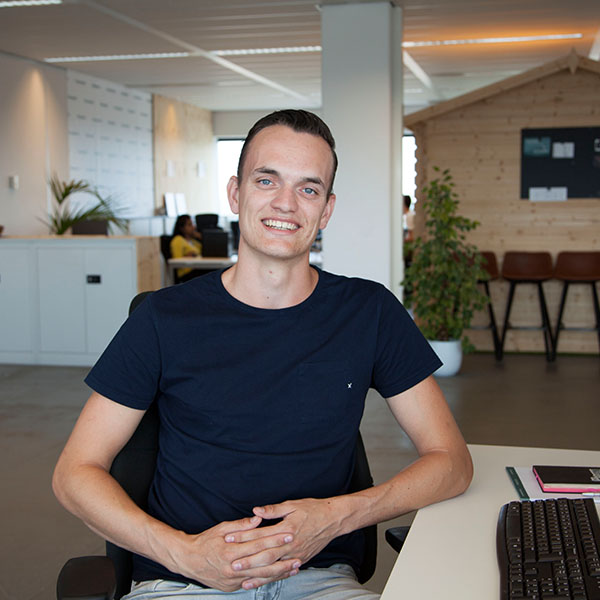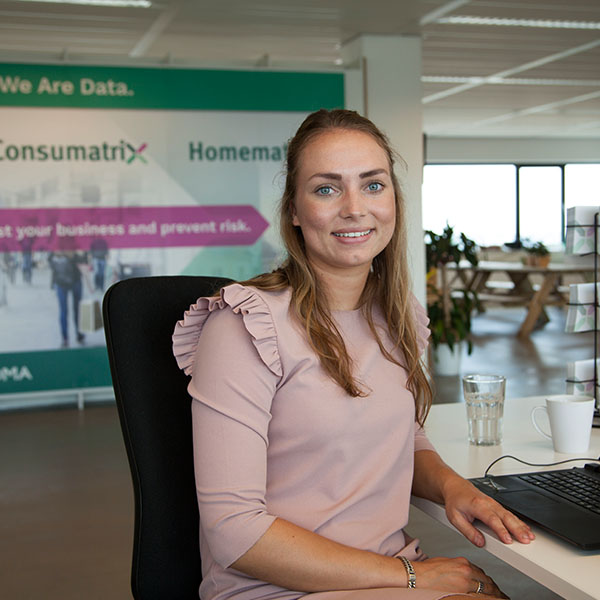 Sjoerd Egberts (24) - Product Marketeer
Why did you decide to work for this company?
When I graduated, I travelled a lot and had several different jobs. When I got back to the Netherlands I wanted to work for a company that offered a promising perspective where I could further my ambitions, and I soon came across the Matrixian Group. What I find appealing is the challenging and varied job, and the personal development opportunities.
What was your previous job?
Sidejobs as a construction worker, grower and selling for charities.
What do you do in your spare time?
Playing sports, going to festivals and hanging out with friends.
Maaike Klaver - Office Manager
Why did you decide to work for this company?
I was looking for a part-time job next to my studies. I liked the flexibility very much. In addition, I like helping a company grow and creating my own job.
What was your previous job?
A job in the catering industry
What do you do in your spare time?
I like to work out and hang out with friends
Stef Vernooij (21) - Business Developer
Why did you decide to work for this company?
I decided to work at Matrixian Group, as it is a fast growing start-up where you have a lot of freedom to develop yourself. The team is very ambitious and we also have a lot of fun.
What did you study?
Commercial Economics.
What do you do in your spare time?
In my spare time I like to go to football games, festivals and sport at the gym.
Keshava Ragavendra (26) - Data Scientist
Why did you decide to work for this company?
I wanted to work for a start-up and can really identify with the CEO's vision. He wants to become the largest data company in the Netherlands and later in Europe too. I want to be part of this.
What did you study?
Biomedical Engineering.
What do you do in your spare time?
I love to cook and watch sports games.
Stefan Krijnen (44) - Chief Technology Officer
Why did you decide to work for this company?
The reason I chose the Matrixian Group is that there are still a lot of challenges. It is still a small team and that provides many opportunities for creating your own job.
What was your previous job?
Chief Technology Officer NavAds.
What do you do in your spare time?
I like to go to the beach or go out for dinner.