Trainee Audit
KPMG
Amstelveen
What is required?
Academic diploma
Economic or business background
Numerical strong
Motivation to start training as a Registered Accountant (RA)
Assertive character
What will you get?
€2,300 - €2,600 gross p/m
40 hour workweek
30 vacation days
Rarely work in the weekend
Coaching en Audit Academy
What will you do?
20% Meeting client
10% Process client conversation
10% Capture walk-through procedure
20% Meeting team
30% Check annual accounts
10% Checking procedure screen
This vacancy has been created based on interviews with employees to help you get a realistic preview of the job.
Vacancy
In your first year as an Audit Trainee at KPMG, you will gain insight into all the components you go through as an accountant. Because you will see a large number of different customers during the first two years, you can discover where your interest lies. These may be customers in the following markets: Consumer and Industrial Markets, Technology, Media, and Telecommunications, Financial Services, Public Sector, and International Business.
As an accountant, you will work in the office or at the customer four days a week, and you will attend university one day a week for your chartered accountant training program. The year starts with a pre-audit in which the company's risks are analyzed. Then, you enter the 'interim stage,' in which all the company's internal processes are examined. Finally, the annual account is audited in approximately five months. You will work for several customers, and for each customer, you will be part of a different team consisting of about five to ten co-workers. Here, you will work with several co-workers from other offices who have different positions, including a senior, a supervisor, a manager, and a partner who is ultimately responsible.
Calendar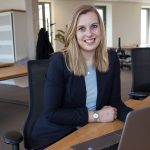 Trainee, department CIM, KPMG
Ysette Wolvers
The best days are very varied: you have a conversation with the customer and a discussion with the team, and you are working out something that you learn a lot from.
On a less pleasant day you wait for the customer's response, after that you can proceed with your activities.
08:00

09:00

10:00

11:00

12:00

13:00

14:00

15:00

16:00

17:00

18:00
During the audit, you discover that there's a 100,000-euro difference between the customer's bank balance and their annual account. What to do?
It is possible that there's a difference between the bank balance according to the bank and that according to the annual account. You take the relevant documents to the customer and indicate the difference.

If the difference cannot be explained directly based on the documents, you ask the customer to investigate it for you. You secure an appointment with the customer's Finance Director. The customer may discover that it is a dollar-based bank account and that they forgot to revalue the currency. In that case, they must take a loss on the difference and adjust it in their annual account.

Subsequently, you tell the customer to adjust it and check whether they've done so. Usually, the customer will give you a reason why it couldn't be done. Although you would like to believe the customer, you should always request underlying documentation and verify if the customer is right based on the figures.
Growth
You will start as a trainee, and every 2 to 3 years (depending on your personal preferences and performance), you will take the next steps: Senior, Supervisor, Assistant Manager (you can only take this step once you've obtained the title of RA, the Dutch equivalent of Chartered Accountant), Manager, Senior manager, Partner. In addition, you can expand your activities within your role in different ways. This means that there is a lot of room for your own input besides your trainee tasks. Examples include organizing activities for your department or helping recruit new co-workers during recruitment events.
Working at KPMG
KPMG the Netherlands is part of an international network of accountancy and consultancy firms with 162,000 employees in 155 countries. KPMG's accountants perform assessment and audit tasks and provide an independent opinion regarding financial matters. KPMG's consultants are deployed in various fields, such as data analysis, blockchain, robotics, cybersecurity, and audit digitalization.
HQ in Amstelveen

Active in 155 countries

34 % / 66 %

Average age 31

2,849 employees in NL

162,000 employees worldwide
Colleagues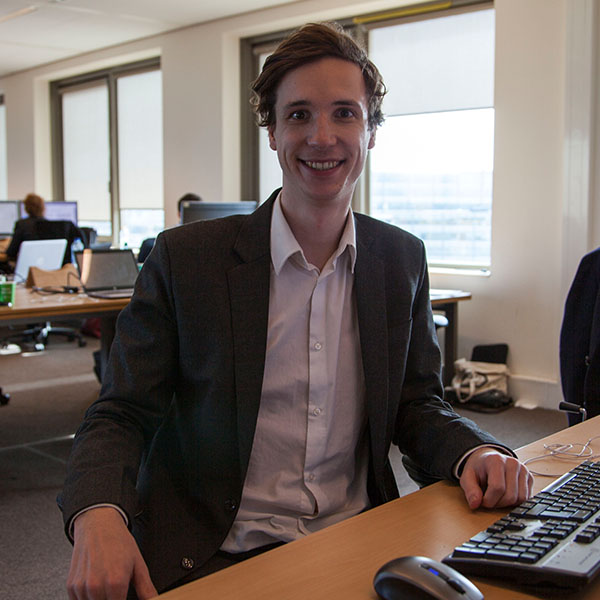 Koen Duizings (25) - Young Talent Program
Why did you decide to work for this company?
KPMG is a global and leading player within Audit and Advisory. It is the ideal place to start your career because of the many learning and growth opportunities. Additionally, there is a pleasant working atmosphere with friendly and ambitious co-workers.
What was your previous job?
This is my first job.
What do you do in your spare time?
Cycling and traveling.