(Junior) Sous Chef
DoubleTree by Hilton Amsterdam Centraal Station
Amsterdam
What is required?
Mbo+ work and thinking level
At least 2 years of experience as a Junior Sous Chef or strong experience as a Chef de Partie
Good command of the English language, both verbally and in writing. Proficiency in other languages ​​is a plus
Strong communication skills, good in a team and able to work under pressure
Innovative and creative
What will you get?
A salary between €2.650 and €3.050 gross per month (depending on knowledge and experience)
38-hour working week
25 vacation days
Training options varying from foreign languages to first aid courses
For yourself: 30 hotel nights per year in Hilton Hotels worldwide for €40.00 per night + great discounts for friends and family
50% discount at our in-house Starbucks and various restaurants in Amsterdam
Discount on in-house Food & Beverage
Travel allowance up to €150.00 per month
Free use of the in-house fitness area
Option to lease a VanMoof e-bike for only 1 Euro per day
Staff clothing and free in-house dry cleaning
What will you do?
35% Assisting in the kitchen
30% Checking activities and directing colleagues
15% Processing orders at suppliers
10% Administration and consultation
10% Working on personnel planning
This vacancy has been created based on interviews with employees to help you get a realistic preview of the job.
Vacancy
As a (Junior) Sous Chef at DoubleTree by Hilton Amsterdam Centraal Station you are responsible for coordinating all activities in and around the kitchen. You mainly have a supervisory function, but you regularly help out in the kitchen because of peak periods. You manage colleagues and ensure that everything runs smoothly and quickly. You tackle problems or challenges, solve them and give colleagues the right instructions. You are always alert to quality and hygiene in and around the kitchen and restaurants. You also focus on the smooth running of room service, catering for staff and banqueting (meetings & events). In the meantime, all work for breakfast, lunch, drinks and dinner continues, so it is important that you maintain an overview at all times.
There are currently three other Sous Chefs and 12 chefs. In addition, you work together with your F&B colleagues. You work in the two restaurants on the ground floor (Eastwood Beer & Grill and the City Café) and in SkyLounge Amsterdam, located on the 11th floor of the hotel. All three restaurants are working from one kitchen; it differs per shift how many colleagues are scheduled. You are also responsible for drawing up the personnel planning. Finally, you take on some administrative tasks, such as ordering products from suppliers on a daily basis. You always do this in close consultation with the other Sous Chefs. In addition, you keep various documents up-to-date, for example with the temperatures of all refrigerators. The kitchen downstairs is open from 7 AM to 11 PM and the SkyLounge kitchen is open from 11 AM to 11 PM. There are four shifts: 5 AM – 1 PM, 7 AM – 3 PM, noon – 8 PM or 3 AM – 11 PM. 
Calendar
On a nice working day you know exactly where you stand and there are no sudden changes. The work runs smoothly and all work during the morning shift is fully completed.
On a day when not everything is going according to plan, a last minute reservation comes in for a large group. This could mean you will have to order extra ingredients, but you have to deal with suppliers who cannot deliver on such short notice.
A group of 60 people is coming for a business event including breakfast. This started at 9 AM, but at 9:45 AM only 30 people have arrived. How will you proceed?
This half of the group has been waiting for a while and asks you where their breakfast is. In retrospect, it appears that something went wrong in the internal communication regarding this group. You notice that the guests are slightly irritated. Then it is up to you to keep your team calm, but take action quickly to keep the guests happy. You aim to have the complete breakfast on the table within ten minutes, since the kitchen had fortunately prepared most of the items. Eventually this succeeds, after which you point out to the F&B team that they must be sharper on these kinds of situations from now on.
Growth
Various training courses are offered by the hotel. This can vary from social hygiene and food safety trainings, to a wine course or a first aid course. Whatever may pique your interest, may just very well be in the books for you.
Working at DoubleTree by Hilton Amsterdam Centraal Station
DoubleTree by Hilton Amsterdam Centraal Station has been one of the capital's most iconic hotels for over ten years. The hotel is centrally located and offers stunning views, extraordinary service and multiple food & beverage restaurants. The hotel is best known for its award-winning rooftop bar SkyLounge Amsterdam, but also features fifteen meeting rooms, its own in-house Starbucks and one of the best grill restaurants in town, called Eastwood Beer & Grill. The team of DoubleTree is extremely diverse and full of energy and enthusiasm. This is very much needed, since during a busy weekend the hotel welcomes over 1.000 guests per day!
More than 170.000 employees worldwide

Active in over 120 countries

50% / 50%

Average age 30

Depends on function and department

Remote work negotiable for office positions
Colleagues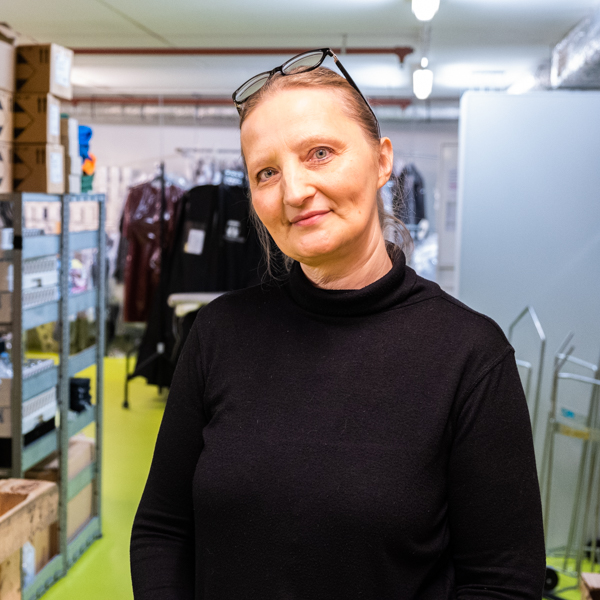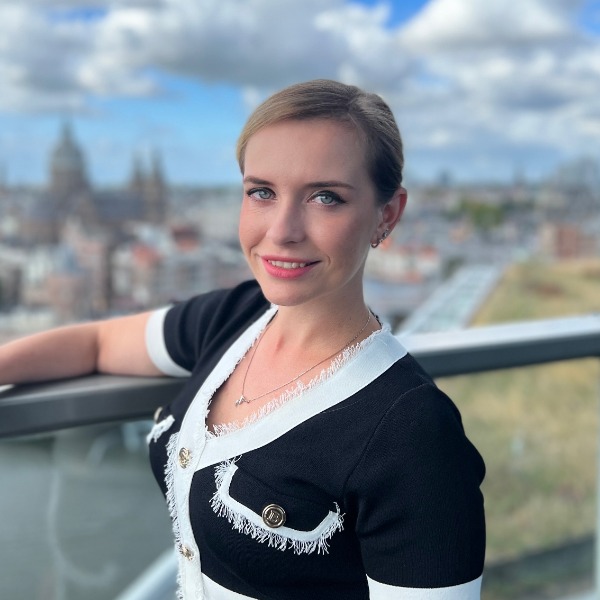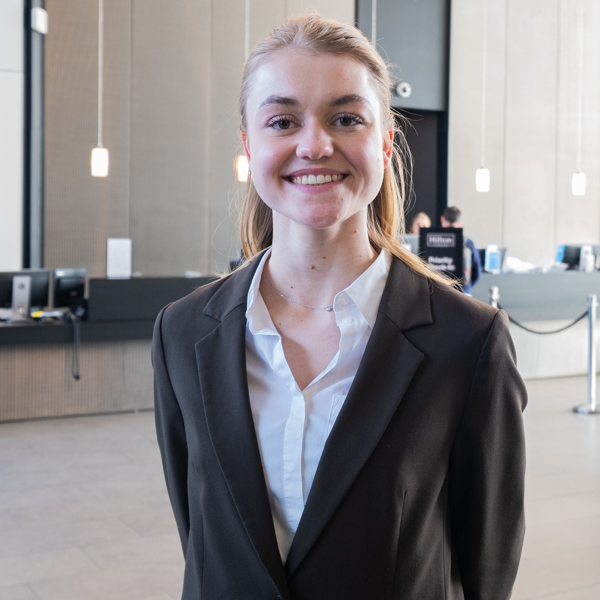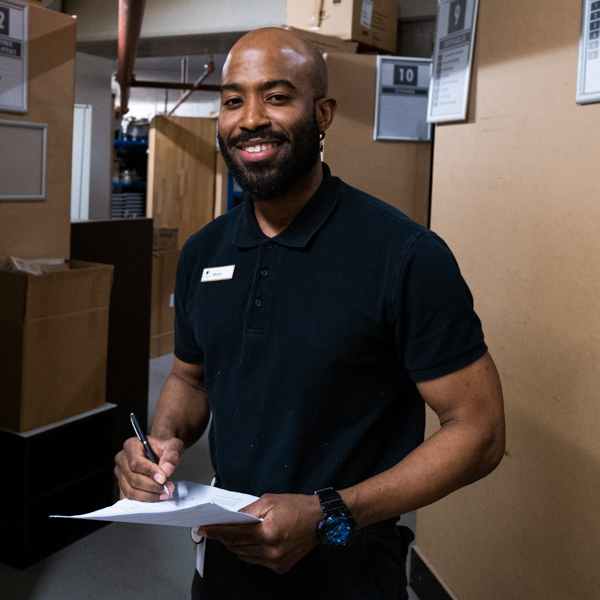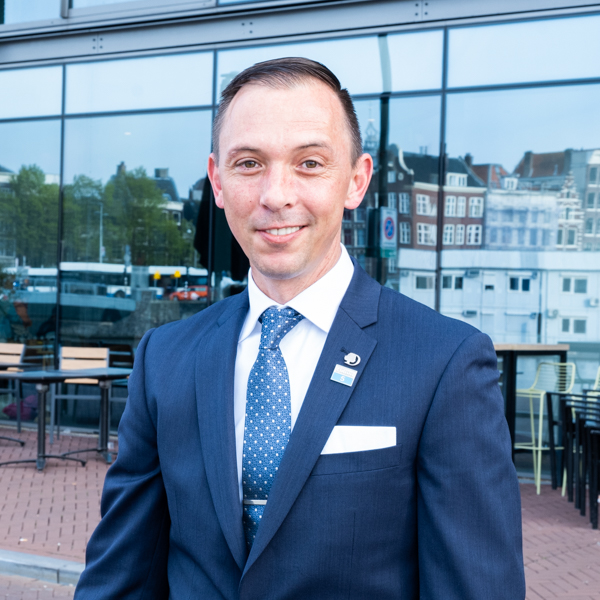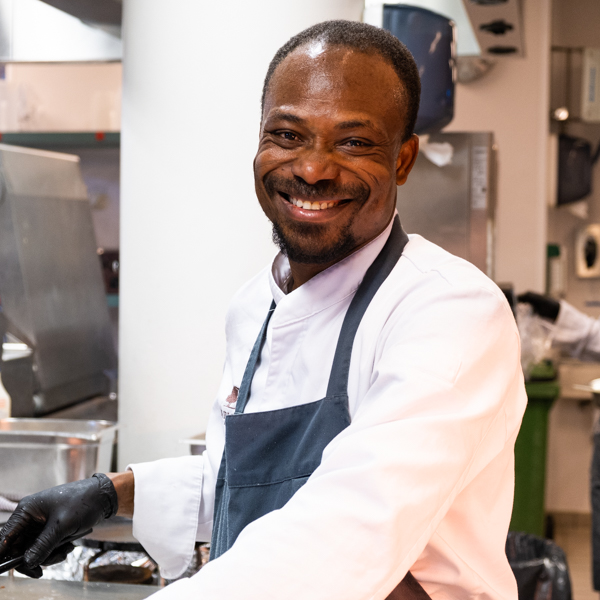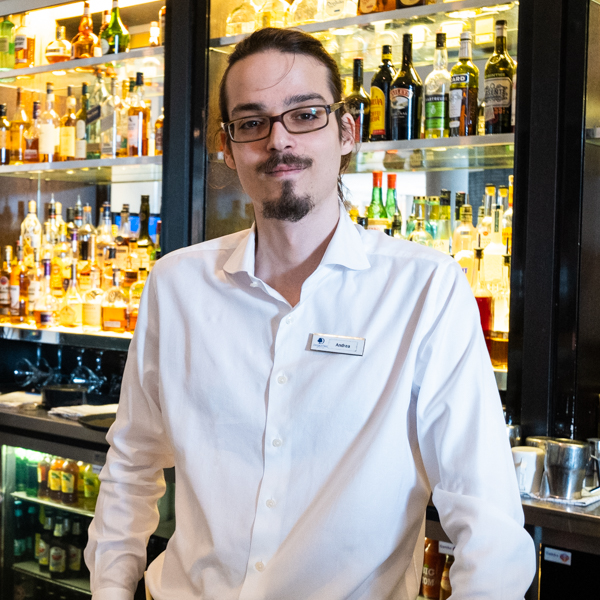 Monika Krzyzanowska - Assistant Housekeeping Manager
Why did you decide to work for this company?
I have been working for hotels for 25 years. I have experience in different positions in Poland, but in small boutique hotels. I wanted to work for a big hotel and I got this opportunity at Hilton.
What was your previous job?
Manager of Donimirski Boutique Hotel in Krakau.
What do you do in your spare time?
Cycling.
Olga Galiuk - General SkyLounge Manager
Why did you decide to work for this company?
When I saw the vacancy of the General Manager of SkyLounge, I felt that I must be a part of the amazing team and Hilton. The values of the brand represent my beliefs and the management style. Having the hospitality background the company fit my expectation for the career growth and personal development. It is a great feeling to work with amazing colleagues from all over the world and reach goals together.
What was your previous job?
My previous job was Level 43 Sky Lounge Manager in Dubai where I learned and gained the skills to operate the busy operation and handle the big team.
What do you do in your spare time?
In my spare time I love exploring new places and visit new restaurants. Moreover, I love travelling to new countries to discover new cultures. On a normal day, I like to have a nice cup of coffee outside with a great view.
Valerie Broeshart - Front Office Supervisor
Why did you decide to work for this company?
I was looking for a challenging and beautiful hotel in Amsterdam. The 557 rooms this hotel has, and the fact that it is a DoubleTree, made the hotel appeal to me immediately.
What was your previous job?
Front Office Agent - Holiday Inn Express.
What do you do in your spare time?
Planning fun trips, eating out or just having a drink.
Amilcar Michel Morgan Neninger - Store Keeper/ Kitchen
Why did you decide to work for this company?
Because I saw a great opportunity to grow professionally.
What was your previous job?
Horeca employee.
What do you do in your spare time?
Sports and playing with my kids.
Neil Rheeder - Assistant Breakfast Manager
Why did you decide to work for this company?
The hotel is close to the Amsterdam Central train station. Also Hilton is a world renowned brand name, which means as an employee there are countless benefits, world exploring opportunities and amenities.
What was your previous job?
Breakfast Supervisor.
What do you do in your spare time?
Gardening and going for walks.
Ernest - Breakfast Chef Kitchen
Why did you decide to work for this company?
A friend told me about the company how good it's to work there and I decided to work there too.
What did you study?
Cooking school.
What do you do in your spare time?
Take care of my children and do something nice together with my family.
Andrea Lanciotti - Supervisor Groundfloor Eastwood
Why did you decide to work for this company?
I started to work at Hilton in 2015 in Italy because I had an opportunity to do an Internship in the banqueting department.
What was your previous job?
Waiter in aleph a curio collection by Hilton in Rome.
What do you do in your spare time?
Play games and going out going out for dinner.
Application process
Interview with manager
Interview with head of the department
You've got the job!